How To Choose the Best Vinyl Siding Color
Properly installed vinyl siding is made to last a long time. If you maintain it, it could last for 50 years! That means you should be sure to choose the best vinyl siding color.
At Rapid Restore, we've installed siding that lasts on thousands of homes. We install fiber cement, cedar, and wood siding, but vinyl is by far the most popular, and for good reasons! It requires very little maintenance, it's one of the most affordable options, and it's definitely the most customizable. You can get vinyl siding in almost any color you can imagine.

That's why replacing vinyl siding creates a huge opportunity and leaves you with a big decision. The right colors will do wonders for your curb appeal and resale value. Don't worry,
Thinking About The Right Vinyl Siding Color
Since this is the siding and the exterior of a house, you'll need to think about it differently than you'd think about a nail polish color or a shirt. For example, lime green has never been a good choice of siding color, and it never will be.
The best vinyl siding colors will stay beautiful for all 50 years, but that doesn't mean you can't choose something bold or unique. Start narrowing down your choices by thinking about what you want to feel when you look at your home. Do you want it to be bold? Classic? Subdued?
You should also take the other houses in your neighborhood into consideration. If most of the houses are designed with the same color palette, do you want your house to blend in or stand out?
Note: if you live in a community with an HOA, you need to make sure there are no rules about the colors of your house.
Finally, don't forget to take note of the color of your roof, trim, garage doors, and exterior doors. If you don't plan on changing any of those colors, make sure your vinyl siding color complements what you already have.
The Best Bold Vinyl Siding Colors
Farm Red

The top bold color for your home is red. It's bright and unique, but still beautiful and classic.
Deep Blue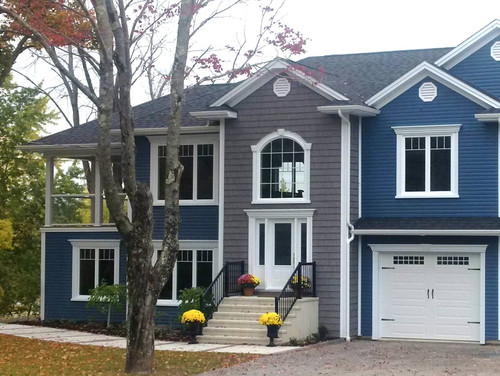 Blue is a bold, eye-catching color for your home, but it's also very popular. You can get almost every shade of blue siding imaginable. If this blue is just a little bit too bright for you, slate blue is like a mix of blue and grey, shown below.
Green
Interestingly, some green vinyl siding colors can actually be considered a neutral color. A brighter or deeper green will be more bold, but muted greens are still very classic. 
The Best Neutral Siding Colors
White
If colors completely intimidate you, white is an easy and classic choice.  Your home will look fresh and new, and you can add pops of colors on the accents.
Grey
Light grey and dark grey houses can look very different. Your trim and roof colors make a big difference in this choice, so make sure you contact Rapid Restore.
Beige
Shades of beige are probably the most common choice of vinyl siding color. When the right shade of beige is chosen with the right trim colors and landscaping, it can be stunning.
Suffolk County Siding Colors
If the home is in Suffolk County, you can get a good idea of the siding colors that sell well by looking around you. Even if you're one of those rare people who can make this decision easily without any doubt, it's a good idea to talk to professionals. There is almost always details involved that can impact your decision.
At Rapid Restore, you know you will get the absolute best and most stress-free service in the county. We'll also guide you in your decision-making process, so you can be sure the end result will have the highest quality and be stunningly beautiful for decades to come.
Contact us today for your free estimate!